Gutter Installation & Replacement Experts
Looking for the best Gutter Installation and Gutter Replacement Company? Parks' Waterproofing is now offering seamless 6-inch gutter installation! We are now the only company in North Carolina that offers affordable water management solutions from your roof to the bottom of your footings. Let us help you with top-to-bottom water protection for your home or business.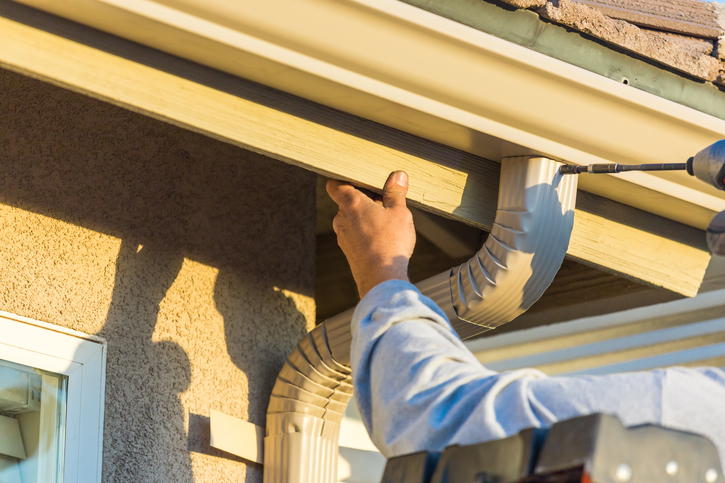 What are seamless gutters? Seamless gutters are similar to the typical rain gutters you see on most buildings. The difference is, that we create your new seamless gutters on-site with our seamless gutter machine. Seamless gutters are custom-made from one solid piece of material, usually aluminum, copper, or even steel.
After measuring your home or business and determining the length of gutters you need, we use a single piece of material and shape it into the exact size of the gutter needed. We offer 6-inch gutters as they handle water better than 5-inch gutters and they are the better solution for your roof. We then secure your seamless gutter to the side of your building and attach downspouts. No sealing agents and mitering joints are necessary, because there are no joints to cause leaks.
Parks' Waterproofing can also perform gutter repairs or gutter replacement if your old gutters leak or have suffered damage. We can provide the necessary materials to match your existing gutter system for repairs or replace the damaged side with a new seamless gutter. Parks' Waterproofing is the go-to contractor for reliable gutter installation and gutter replacement.
Affordable Gutter Replacement Cost
Parks' Waterproofing has always been committed to serving our customers with cost-effective, long-term solutions for handling water and drainage. Our patented Parks' Free-Flowing Waterproofing System is an example of a one-time installation that serves you for many years. Seamless gutter installation and gutter replacement is another such service that gives long-term solutions.
Although you may be new to seamless guttering, it is not a costly new technology. The first seamless guttering machines were introduced in the 1960s. The technology has been refined over the years, but it remains a very cost-effective alternative to standard, sectional guttering.
This is because standard guttering comes in cut pieces that must each be secured to the side of your home and mitered together at the joints. Then a caulk-like sealant must be applied to all the joints to prevent leaking. This means a lot of extra work and many more trips up and down a ladder. This extra time for labor costs runs up the price of conventional guttering. All this is unnecessary with seamless guttering, making it an affordable and long-term option that will save you money over time.
Seamless Gutters vs. Sectional Gutters
Sectional gutters are commonly made from vinyl or plastic, which can become brittle and weak from exposure to the sun and weather. These materials are not used in seamless guttering because they cannot be rolled and shaped as a single piece in the field. Seamless guttering is much stronger than sectional guttering because there are no joints to become weak, leak or break apart. More joints mean more potential leaks.
The sturdy material and joint-free construction in seamless guttering provide your home or business a stronger, long-term solution for channeling rainwater runoff safely and efficiently away from your building. Parks' Waterproofing can typically remove your old guttering and install your custom seamless guttering in less than a day. Our installation team will also leave your property neat and clean, removing all debris from the job when we leave.
Parks' Waterproofing proudly serves North Carolina cities from Wilkesboro to East Bend, and from Mt. Airy to Winston-Salem. For over 30 years, we have built the reputation of a being company that excels in providing long-term, cost-effective services with superior customer service. We promise you will experience the same with our seamless guttering services. Contact us today to get your quote or to ask for more information about seamless guttering, gutter installation or gutter replacement for your North Carolina home or business.