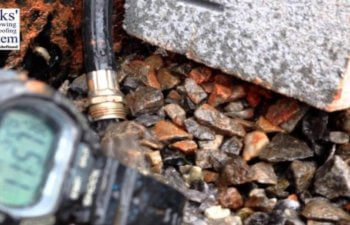 We were contacted to price repairing this home due to the crawl space still flooding and the foundation corroding.  We could have repaired this home for 1/2 the price of this sealed crawl space with 2 sump pumps.  Notice the service tag…not only do customers overpay for their services, but they must also CONTINUE to pay them to service their pumps for as long as they own their home!  The Parks' Free-Flowing Waterproofing System is COMPLETELY maintenance free and comes with a lifetime warranty!
Why would anyone choose this "cover up", pay double,  and continue to pay forever???
This is EXACTLY why the basement systems franchise cannot, and will not receive ANY endorsements from engineers or building inspectors!
Posted on behalf of Parks' Waterproofing LLC
5287 Speedway Rd
North Wilkesboro, NC 28659
Phone: (336) 927-3504
Monday – Friday: 8:00 AM – 5:00 PM