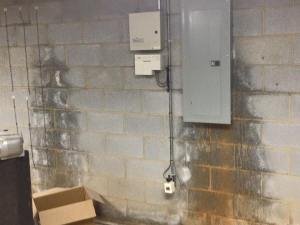 Although exterior waterproofing is necessary for new homes when you plan to build in a low-lying area, for already built homes, interior waterproofing may be necessary for your basement.
However, whether you choose an interior or exterior application, waterproofing is non-negotiable in some areas, and a good idea in all areas, to prevent problems with your home's structural stability and possible mold growth.
Your Home's Structural Stability Is at Stake
Some basements serve as storage space for your family, an entertainment area, a study or guest bedroom, but there is a reason they call it the foundation. It's a vital segment of your home's stability.
Your home's basement keeps everything above it on an even keel. Without waterproofing, moisture can seep into the cracks and crevices between concrete blocks or even the concrete slabs. Often, concrete slabs are used instead of blocks to save money when constructing the foundation.
As the weather changes, the constant freezing and thawing cause the ground around your foundation to shift. Regardless of the material used, blocks or concrete slab, it will crack and allow water to seep into your basement.
Your number one concern should be water seepage. In most areas, exterior waterproofing during construction is mandated by building codes. However, older homes might need a waterproofed interior due to the absence of exterior waterproofing or the breakdown of older waterproofing due to the natural occurrence of hydrostatic pressure, which can affect the foundation's stability. Plus, even a tiny amount of moisture can cause mold growth.
Preventing Mold Growth
Without waterproofing, you might notice efflorescence (white crystals), or white powdery patches, on your basement's wall due to moisture. Water stains and foul, musty odors might also be present. Wet basement walls are notorious for affecting the respiratory health of the home's residents. When there is an unexplained higher number of respiratory illnesses within your family, it could be caused by mold growth.
Contact the Professionals at Parks' Waterproofing
Chances are your basement or foundation needs the attention of Parks' waterproofing right away. Use the convenient contact form to request an estimate from Parks' Waterproofing in Winston-Salem, NC.
Posted on behalf of Parks' Waterproofing LLC
5287 Speedway Rd
North Wilkesboro, NC 28659
Phone: (336) 927-3504
Monday – Friday: 8:00 AM – 5:00 PM