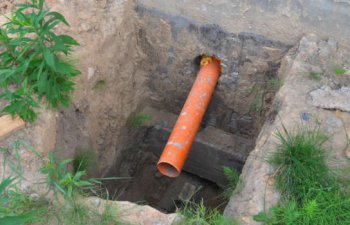 Poor preparation of soil, compacted soil, rocks and root systems are just some of the issues that can cause poor drainage. Waterlogging then occurs, which can destroy lawn features that are visible on the surface. However, another potentially more serious problem may manifest beneath your landscape.
Water that does not drain away efficiently is a concern. Your basement walls or foundation may lie directly in the least path of resistance. Without adequate waterproofing, structural damage is almost inevitable. Time is an important factor when it comes to water intrusion. The longer you wait, the more likely it is that you will face the prospect of costly repairs.
Compromised Hardscapes
Waterlogging on a lawn or anywhere else on your landscape can destroy a number of features. Retaining walls, pathways, fountains and archways are all at risk if water is left to drain inefficiently. Some drainage methods are not fit for purpose and may even cause issues that the system is designed to avoid.
At Parks' Waterproofing, we have designed, patented and created a system that is adaptable to any landscape and substrate. Our goal is to provide protection for all the features that add aesthetics and function to your outdoor living spaces.
Basement Walls & Foundations
There is no way to overstate how important basement walls and foundations are to the structural integrity of a property. When these structures are compromised, the rest of the building suffers. From hairline cracks to major splits in walls, there are several problems that could put your property and family in peril.
Our first task involves inspecting your property to determine the reason for waterlogging. We can also assess any current waterproofing systems to identify strengths and failings. In most cases, the Parks' Waterproofing team installs a completely new system to protect foundations and basement walls from draining water.
Our waterlogging solutions are endorsed by builders and structural engineers. We are so confident in the patented Parks' Waterproofing System, that a lifetime guarantee is provided with every installation.
To learn more about Parks' Waterproofing or any of our drainage systems, reach out to our offices today.
Posted on behalf of Parks' Waterproofing LLC
5287 Speedway Rd
North Wilkesboro, NC 28659
Phone: (336) 927-3504
Monday – Friday: 8:00 AM – 5:00 PM