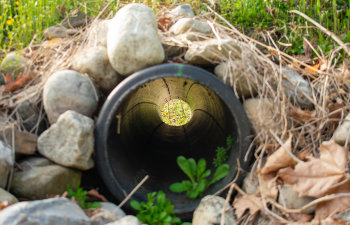 Water-related issues can wreak havoc on your property, leading to costly damages and potential health hazards. However, a solution that can effectively manage water drainage and prevent such problems is French drain installation.
It is essential to understand the numerous benefits of installing a French drain system and highlight the expertise of Parks' Waterproofing, a leading provider in the industry.
Effective Water Management
One of the primary benefits of French drain installation is its ability to manage water flow effectively. By directing water away from your property's foundation, French drains prevent water from accumulating and causing damage.
This feature of French Drains ensures that your basement remains dry and free from potential flooding risks, safeguarding your belongings and creating a healthier living environment.
Protecting Foundation and Landscape
Excessive moisture can weaken the foundation of your property, leading to structural issues. French drains act as a protective barrier, intercepting water before it reaches your foundation.
French Drains aim to divert water to a safe drainage area. Additionally, they help preserve your landscape by preventing soil erosion and waterlogging, ensuring your plants and trees thrive.
Minimizing Erosion and Soil Compaction
Erosion can harm your property, causing soil displacement and loss. French drains effectively control water runoff, minimizing erosion and preserving the integrity of your landscape.
Furthermore, they prevent soil compaction, ensuring it remains healthy and suitable for plant growth.
Improving Soil Drainage
A French drain can significantly improve the situation if you have poorly drained soil. By removing excess water, French drains allow for proper soil aeration, facilitating healthier plant root growth.
This function, in turn, enhances your landscape's overall health and vitality.
Reducing Mosquito Breeding
Stagnant water is a breeding ground for mosquitoes, which can be annoying and pose health risks.
French drains eliminate standing water, reducing the chances of mosquito infestation and creating a more enjoyable outdoor space for you and your family.
Eco-Friendly Solution
French drains offer an eco-friendly solution for managing water drainage. By re-routing water away from your property, you contribute to conserving local water resources.
Additionally, French drains can be integrated with rainwater harvesting systems, allowing you to utilize collected water for irrigation purposes.
Cost-Effective Investment
French drain installation is a cost-effective investment in the long run. By preventing water-related damages, you save on potential repair costs that could arise from basement flooding, foundation issues, or landscape damage.
It is a proactive measure that provides significant returns on your investment.
Parks' Waterproofing
When it comes to French drain installation, Parks' Waterproofing is a trusted and reputable provider. With our expertise and experience, we ensure seamless installation, customized solutions, and exceptional customer service.
Parks' Waterproofing utilizes top-quality materials and employs skilled professionals to deliver reliable and long-lasting results.
Find out if French Drains can enhance your outdoor spaces. Call our offices today for a quote.
Posted on behalf of Parks' Waterproofing LLC
5287 Speedway Rd
North Wilkesboro, NC 28659
Phone: (336) 927-3504
Monday – Friday: 8:00 AM – 5:00 PM