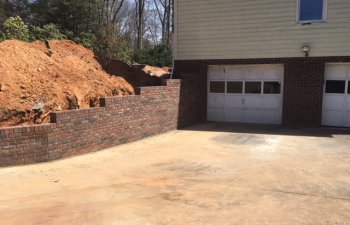 The slope of your landscape can affect how and where water drains away. For many homeowners, a landscape that slopes toward the basement is sometimes a practical or desirable feature. This should not become an issue unless the contractors who were charged with ensuring adequate drainage didn't do a thorough job, or something has changed that is preventing water from draining away effectively.
Impediments to Water Drainage
Sometimes impediments to water drainage are naturally occurring, such as rock or soil type. While these impediments may be the result of shifting earth under your landscape, it is more often the case that the site was not properly inspected before construction began. Other impediments may include structures that a homeowner has installed to enhance the outdoor living experience, such as decking or a swimming pool.
If any impediment to water drainage exists, the water will find the path of least resistance. The unfortunate reality for many homeowners is that path leads directly to a basement at the bottom of a sloping landscape. If you do not have an effective water barrier to protect your basement walls and foundations, the result is water infiltration that can cause mold, changes in humidity, damage to structures and property.
Effective Basement Waterproofing
If water drainage is an issue on your property, fixing the problem should be your first priority. However, there is always a risk to basement walls and foundations if a permanent solution is not in place. Effective waterproofing for basement structures is the most sensible approach. An internal waterproofing membrane is not adequate protection and may not even meet required building standards.
At Parks' Waterproofing, we can install a system that permanently protects your basement walls and foundations. Our patented Parks' Free-Flowing Waterproofing System also comes with a lifetime guarantee. Call today to learn more about our effective waterproofing solutions.
Posted on behalf of Parks' Waterproofing LLC
5287 Speedway Rd
North Wilkesboro, NC 28659
Phone: (336) 927-3504
Monday – Friday: 8:00 AM – 5:00 PM