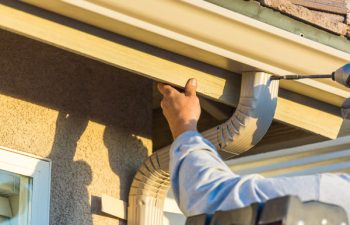 Roof gutters may not be the first thing that comes to mind but they are vital to protecting your home or other buildings from water damage.
Keep Your Basement Dry
A roof can shed a large volume of water in a very short time. This water has to go somewhere. Without gutters to direct the flow away from the perimeter of your structure, much of that water could end up in your basement. This is particularly true if the surrounding landscape slopes toward the building.  
When a foundation suffers from repeated soakings, it crumbles and becomes weak. It can become so weak that it will fail in its function of supporting the structure. Gutters prevent this by directing this large volume of water away from the building.
Prevent Erosion
Another important factor that gutters prevent is the erosion of the soil around a building. Water gains momentum as it falls from the roof; all that power loosens the soil, creating holes. These holes can turn into large, unsightly channels or valleys. This erosion can become a larger problem if the structure is on a slope or hillside. Gutters will help to protect landscaping from these holes and valleys that disturb your landscape elements.
Protect Your Exterior Walls
Buildings with a short overhang will also suffer damage to the siding as water runs off the roof and flows down the exterior walls. This will leave an unsightly tiger stripe on the building. Additionally, when water falls from the roof and lands on the perimeter soil, the water bounces back up and rots the lower portion of the exterior walls and can rot out the sills. Sills are what hold your structure onto its foundation. Gutters will help prevent this unsightly staining and protect your exterior walls and sills from the water damage that leads to rot.
Save on Maintenance
Water coming straight off a roof will damage the paint, increasing your maintenance costs. In addition, water coming off the roof can damage your fascia boards. Fascia boards are the first boards just under the roof line. Once these start to rot, it can climb up to the underside of your roof. Gutters help to prevent all of this damage.
Mold and Mildew
Gutters also prevent mold and mildew from growing on and in your building. Mold, mildew and other types or growth love moisture, so it is doubly important to keep your building dry.  
Roof gutters are a very important part of your structure, helping it stay in shape for years to come. Call Parks' Waterproofing LLC at (336) 927-3504 to find out how easy it can be to protect your building with gutters.
Posted on behalf of Parks' Waterproofing LLC
5287 Speedway Rd
North Wilkesboro, NC 28659
Phone: (336) 927-3504
Monday – Friday: 8:00 AM – 5:00 PM