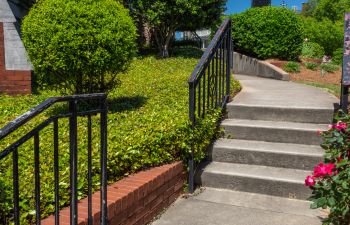 Brushed concrete is preferable to polished or stamped concrete for most outdoor applications. Due to its rough texture, you may think it will not be aesthetically pleasing. However, brushed concrete can rival the aesthetic value of polished or stamped concrete when properly executed. But looks are only one of the finish's many advantages, hence its widespread application.
To this day, broom-finished concrete remains the most widely used concrete finish. It is typical to see it in situations like paved walkways, driveways, patios and more.
What is Brushed Concrete?
When you need the floor slip-resistant — like on an outdoor walkway — you give the concrete a brushed finish by dragging a broom or brush with stiff bristles across the surface. Brushing the concrete after it has set, right before it hardens, creates a rougher texture that is functional and inexpensive.
The Advantages of Brushed Concrete
Brushing concrete is a popular concrete finish because of the many advantages it provides, in addition to the visually appealing texture. These advantages include:
Safety. The biggest perk is that the surface's abrasive texture makes it less dangerous to walk on when wet. The texture of the surface provides traction, reducing the risk of slips and falls, which is especially important in high-traffic areas where water is present, like around pools and spas. It is also ideal around places that might get wet, like patios and walkways.
Affordability. A brushed finish is one of the most accessible and affordable ways to make a concrete surface safe. It is also cheaper than stamped concrete if you want a textured finish to your concrete surface.
Low-Maintenance. You will not have to do a thing to maintain brushed concrete other than clean the surface from time to time. On the other hand, stamped concrete needs to be sealed every few years to keep it looking good and prevent water damage. Upkeep like this is unnecessary for a brushed concrete surface.
Versatility. With only a brush or broom, you can carve all sorts of geometric shapes and designs into the surface, from straight lines in various directions to rectangles and circles. Even the brush used can change the pattern significantly. When done by a professional, like the concrete specialists at Parks' Waterproofing, the outcome can be stunning.
Contact Parks' Waterproofing for Your Concrete Needs
Contact Parks' Waterproofing if you want a brushed concrete finish that looks great and stands up well to regular use. Helping you with your concrete design project is what we do best, and we can do it because of our substantial experience and dedication to superior customer service.
Posted on behalf of Parks' Waterproofing LLC
5287 Speedway Rd
North Wilkesboro, NC 28659
Phone: (336) 927-3504
Monday – Friday: 8:00 AM – 5:00 PM