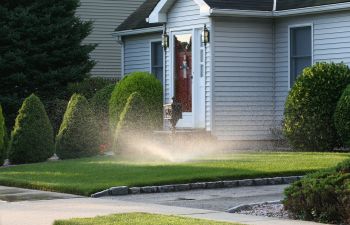 Do you often notice standing water on your lawn after heavy rain? This indicates a drainage issue that should be addressed. Besides destroying the aesthetics of your landscape, standing water is slowly finding a drainage path that could lead to subterranean basement walls or foundations.
When water has nowhere else to go, it will flow through the easiest route. Compact soil, stones, rocks and other solid objects prevent water from draining effectively. Once it reaches your basement or foundation, moisture intrusion will occur. Many homeowners think they are safe with an internal waterproof membrane.
Cost of Moisture Intrusion
It is only when the signs of mold, mildew or damage to structures or property become apparent that the issue is detected. By this time, the structural integrity of supporting timber framing, walls and the concrete slab could be compromised. The cost of repairing this level of damage will put a significant dent in your bank balance.
In serious cases, water getting into the structures of your home can result in the property becoming uninhabitable. Dangers include load bearing structures collapsing without warning, hazardous mold forming and pest infestation due to the moist environment.
Improved Drainage
The only solution to prevent these issues is improved drainage and waterproofing. Creating a route for water to drain away effectively will help to protect basement walls, foundations and other structures. However, there is still a risk of water causing damage. It is therefore recommended that homeowners have a combined drainage and waterproofing system installed.
As an external feature, the Parks' Patented Waterproofing System prevents water from reaching walls and foundations. If you are concerned about the persistence of standing water on your property, reach out to our offices today. We will conduct an investigation and make appropriate recommendations for eliminating the problem.
Posted on behalf of Parks' Waterproofing LLC
5287 Speedway Rd
North Wilkesboro, NC 28659
Phone: (336) 927-3504
Monday – Friday: 8:00 AM – 5:00 PM