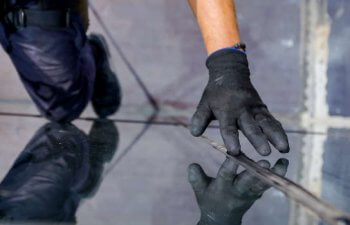 Insufficient waterproofing can cause water damage to your foundation and structure, as well as to furnishings and personal effects. This is not only expensive to fix and replace, but often heartbreaking and disruptive to your family's routine. It's critical to address water leaks into your home's foundation early to avoid worse damage and expense later.
Identify Water Leakage Early
It's always best to make sure proper waterproofing is in place when a home is first being built, but most homeowners don't have that option. Even some home inspectors can miss signs of water damage or leakage in the early stages. Whether you're about to buy a home or already own, there are signs to look for in determining that you may have a water intrusion problem:
Puddles, streaming water and stains – Obviously puddles that form in your ground floor or basement are the dead giveaways to water leakage. Sometimes, however, puddles and leaking water may not be easy to see depending on where they are located. Typically, over time, dry stains form on the floor, walls and trim that suggest previous puddles and leakage.
Humidity and condensation – Condensation builds on the warmer side of a cold surface, such as your windows or doors, and even your walls. This condensation is the result of excess water humidity in the air being drawn to the cold surface. Excess humidity often comes from water draining somewhere into the building structure.
Warped or swollen doors and trim – This is also caused by excess humidity as well as direct exposure to leaking water.
Lingering damp smell, mold and mildew – Excess moisture can encourage mold and mildew growth. Sometime you can see it, but most of the time you can at least smell it. Damp wood and other porous materials harbor these odors.
Floor and wall cracks – Over time, leaking and excess moisture will damage wall and floor materials. The constant cycle of wet and drying out can cause the materials to warp and crack.
Take Care of Water Leakage Issues Early
Parks' Waterproofing technicians in Western South Carolina can confirm water leakage in your home, and set up a system that perfectly addresses your issues with low or no maintenance solutions. Call us or go online today for your free consultation.
Posted on behalf of Parks' Waterproofing LLC
5287 Speedway Rd
North Wilkesboro, NC 28659
Phone: (336) 927-3504
Monday – Friday: 8:00 AM – 5:00 PM