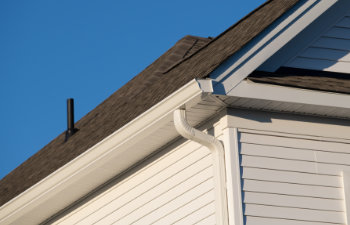 When your gutters are working perfectly, you likely give them little thought. Gutters that are maintained and in good condition protect your roof, foundation, landscaping, and overall property by whisking water away to the proper drainage point. Most gutters can last for over 20 years, but it depends on the quality of the gutter and the level of maintenance performed. If they are not providing proper drainage anymore, they need replacement before it results in damage to your home and property. Here are some signs that it may be time for gutter replacement.
Gaps or Separation
Most existing gutter systems are made of various parts that are screwed together. You may notice gaps or separations between the pieces when these connections become loose. This can result in leaks that allow water to seep down next to your foundation or ruin your landscaping.
Overflowing Gutters
If your gutters are overflowing, it is usually a sign of a clog. However, if your gutters are clean and still not flowing correctly, resulting in overflowing, it may be time for new gutters. When gutters become misaligned, the water may collect and not flow in the desired drainage pattern. Older and overflowing gutters should be replaced instead of trying to realign worn-out parts.
Noticeable Rust, Holes, or Cracks
When there is visible damage to your gutters, it is time to consider a replacement. While you can repair gutters, it may be best to invest in a new gutter system versus spending money on repairs if they are approaching the end of their lifetime. Rust, holes, cracks, broken fasteners, and other damage are definite signs of gutter wear.
Drainage Problems
Even if your gutters look good, if you notice drainage issues in your yard or leaking in your basement, your gutters may not be draining correctly. Soggy areas in your lawn or landscaping or sudden leaks in your basement are signs that you should have your gutters and drainage system inspected.
Why Choose Seamless Gutters for Replacement
If you have signs of gutter wear and it is time for replacement, seamless gutters are the best solution. Instead of pieces of metal or plastic screwed together with joints that can eventually leak, seamless gutters are customized for your home or building made from one piece of metal. At Park's Waterproofing, we provide customized seamless gutter installations designed to last for decades and provide excellent drainage protection for your property.
If you have signs of gutter problems, make sure to have them inspected or replaced. Gutter malfunction can cause expensive damage to your property, from water erosion to your landscaping to foundation and basement damage. For professional gutter replacement with a seamless gutter system in North Carolina, contact our team at Park's Waterproofing. We have served North Carolina communities for over 30 years, providing reliable drainage and waterproofing solutions. Call today for a quote or estimate.
Posted on behalf of Parks' Waterproofing LLC
5287 Speedway Rd
North Wilkesboro, NC 28659
Phone: (336) 927-3504
Monday – Friday: 8:00 AM – 5:00 PM