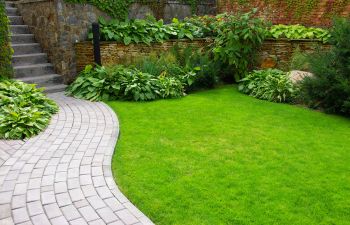 If you notice pools of standing water around your property, particularly after rainfall or snow, you may have a drainage problem. Wet, muddy ground is a safety hazard that increases the risk of slipping and falling. Children and pets may become discouraged from playing in your yard, due to dragging dirt inside your home or ruining clothing and footwear.
Not only are you and your family prevented from enjoying your garden as intended, if moisture outside makes its way to your foundation, you could be facing costly structural repairs. Damp permeating your basement or walls promotes the growth of mold and mildew, warps woodwork and corrodes your foundations.
How Does a French Drain Work?
The French drain was developed in Massachusetts specifically to drain water away from agricultural crops. The system functions so effectively that it has been applied to protecting homes and gardens since.
French drains operate on the scientific principal that water will always drain via the easiest route. Without a drainage system installed, this path is invariably toward the open space of your basement or foundation. As water will always choose the path of least resistance, French drains pull moisture away from your home to a designated drainage area or catch basin.
To remove standing water and prevent moisture permeating your home, a perforated pipe is laid in a trench on your property. This is covered with a water permeable fabric to stop weeds, dirt and debris from entering the pipeline. The trench is then filled in with stones or gravel to allow liquid to easily enter the system.
Choose Parks' Waterproofing for Peace of Mind
You may have noticed online guides for installing your own French drains. At Parks' Waterproofing, we do not recommend undertaking this project, even if you are an experienced DIY enthusiast. With over 35 years of experience in home waterproofing, we can recommend the most appropriate drainage system to suit your needs. For example, you might benefit more from our patented Parks' Free-Flowing waterproofing system.
Not only can we give an expert analysis on fixing your drainage problems, we are so confident in our work that we offer a lifetime guarantee and ongoing maintenance for our products. Contact us in Western North Carolina today for an estimate, or to arrange a consultation.
Posted on behalf of Parks' Waterproofing LLC
5287 Speedway Rd
North Wilkesboro, NC 28659
Phone: (336) 927-3504
Monday – Friday: 8:00 AM – 5:00 PM