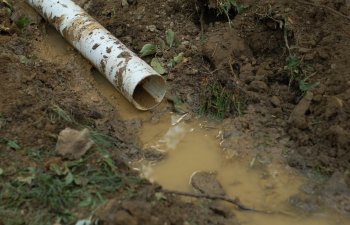 Before cold and snowy weather arrives, you should protect your home with winter weatherproofing. Use the following suggestions to prevent water damage from heavy rain, sleet or snow. And avoid the costs of expensive and unexpected repairs.
Improve Drainage
Proper drainage is the most important defense your home has against heavy snow and the resulting snowmelt when temperatures rise. Your home should have about a five percent slope away from all exterior walls. This means that the ground should slope downward six inches every ten feet.
To improve your drainage, add soil near the foundation and tamp it down firmly. Always ensure the soil level remains below any siding for ventilation. Small-to-medium shrubs and flowers can help hold soil in place.
Clean Gutters and Downspouts
When snow begins to melt, there is a constant stream of water running from your roof into the gutters and downspouts. When gutters or spouts are blocked, this water runs out next to your foundation and walls. This hydrostatic pressure on the concrete can cause cracks and moisture invasion into your basement.
Clean gutters and downspouts at the end of fall to leave them free of dead leaves and other debris. This allows water to flow freely throughout the system and be directed safely away from your home. You may also want to invest in a gutter guard system to help keep gutters clean and maintenance-free.
Protect Piping from Freezing
Winter temperatures throughout North Carolina can become frigid, freezing unprotected pipes quickly. Frozen pipes will burst, flooding your yard or home. Take some time this fall and protect all sources of piping around your home from freezing temperatures.
Insulate exposed pipes. This includes pipes in the garage, basement and crawlspace.
Seal and insulate the walls, windows, and doors to your basement and garage.
Remove, empty and store garden or yard sprinkler hoses.
Remove water from sprinkler system piping.
Never set the thermostat lower than 55 degrees.
Install an Advanced Drainage System
A custom-designed advanced drainage system is a reliable way to prevent a flooded basement. The Parks' Free-Flowing Waterproofing System is designed to drain water away from your home's foundation. Our system provides multi-layered protection for your home, including a waterproofing membrane, termite-treated insulation board, high-quality filter fabric, a four-inch wall of washed stone, a concrete shelf diverting water and a double French drain.
If you are located in Western North Carolina and want to know more about protecting your home from damaging cold weather, call Parks' Waterproofing LLC to schedule a consultation today.
Posted on behalf of Parks' Waterproofing LLC
5287 Speedway Rd
North Wilkesboro, NC 28659
Phone: (336) 927-3504
Monday – Friday: 8:00 AM – 5:00 PM