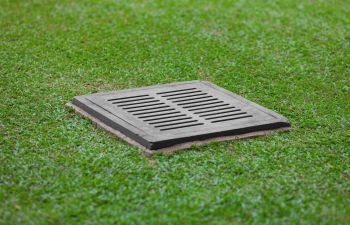 Drainage issues are typically the result of water that is blocked from following the most natural path through soil or other substrate. In many cases, rain and irrigation water will end up running into basement walls or foundations. Neither of these scenarios are good news.
Water that penetrates basement walls can cause dampness, flooding and damage to structures. If your drainage waterproofing is subpar, you could be looking at significant repair costs as a homeowner. At Parks Waterproofing, we can take care of drainage and waterproofing issues, and landscaping to repair damage to your lawn.
Drainage & Waterproofing
Drainage and waterproofing should go hand-in-hand. If the shape, orientation or structural makeup of your landscape is not equipped to handle effective drainage, it's time to take action. Standing water is a good sign that there is a problem, but you may need to look deeper to detect drainage issues.
Damp basement walls or foundations mean that water is getting in somewhere. The issue may be due to condensation resulting from lack of ventilation, or moisture infiltration through solid structures. In either case, getting to the root cause is an important part of home maintenance. Water is a highly destructive force when left unchecked.
Landscaping Installation & Repair
A drainage issue that has been left unaddressed can destroy your lawn and landscape. Once Parks Waterproofing has taken care of your drainage needs, we can turn our attention to repairing your landscaping or total redesign and installation. Our team uses patented waterproofing systems and has specialist expertise in landscaping services.
If you are concerned about drainage or landscaping issues, call our offices today to book a free inspection of your landscape. We look forward to delivering excellence in drainage, waterproofing and landscaping services at your Western North Carolina home.
Posted on behalf of Parks' Waterproofing LLC
5287 Speedway Rd
North Wilkesboro, NC 28659
Phone: (336) 927-3504
Monday – Friday: 8:00 AM – 5:00 PM