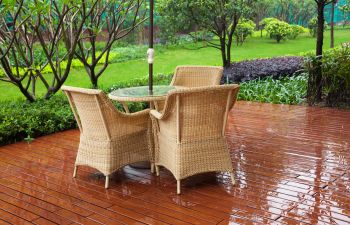 Landscape redesign should improve curb appeal and the value of your home. However, you may find that drainage problems occur when the project is complete. There are several potential issues that can lead to this problem. Identifying all root causes is important to protect your lawn and property structures.
When considering landscape redesign, always turn to experienced professionals. Cutting corners can lead to a range of problems, including poor drainage. The issues that result in standing water or flooding are largely avoidable with the right planning, preparation and installation practices.
Soil Shifts
Soil that has clay deposits may drain effectively so long as water can escape through softer substrate. When your landscape is redesigned, shifts in soil can change the overall composition of your land. Water that was once able to drain away effectively may now meet a clay wall of resistance.
Solid material such as stones and rocks can dictate drainage. Again, any significant changes to your landscape can upset a delicate balance. A specialist landscape contractor will take these factors into account when planning your redesign project.
Reduction in Moisture Absorption
You may choose to move plants and trees or remove these features altogether. Root systems and mulch can help water to drain away effectively. Moisture absorption is also responsible for reducing the volume of water that drains into your soil.
If you plan on rearranging the flora in your garden, consider the impact on drainage. At Parks' Waterproofing, we can offer alternatives to ensure natural drainage solutions so you can enjoy your dream landscape design.
Lack of Drainage Outlets
Drainage outlets are typically based on the specific needs of a property. Landscaping can impact on how water evaporates or drains, so you may need to add additional outlets or equivalent solutions. The team at Parks' Waterproofing can take care of all your structural and natural drainage needs in Wilkes County.
For more drainage troubleshooting, reach out to Parks' Waterproofing today. We can provide a free inspection and recommend effective services for improving drainage. Do not put your landscape, basement walls or foundation at risk – call our offices today.
Posted on behalf of Parks' Waterproofing LLC
5287 Speedway Rd
North Wilkesboro, NC 28659
Phone: (336) 927-3504
Monday – Friday: 8:00 AM – 5:00 PM