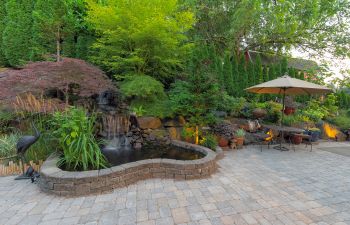 During isolation, it is essential that homeowners are able to find an oasis. Often, the yard is the best place to break the monotony of not having anywhere else to go. If you are practicing social distancing or working from home, getting outside to relax can promote good mental health.
One of the issues that we have encountered at Parks' Waterproofing is customers who are suddenly realizing that their landscapes have been neglected. If you can afford to upgrade features such as concrete patios or hardscapes, now is the time to invest in that added curb appeal.
Patio Perfection
The patio plays an integral role in outdoor living. For many families, a patio is a place to relax or provide access to the pool area. The two most important elements of a concrete patio are aesthetics and functionality. A sleek surface isn't ideal for a poolside, which is why many of our customers are requesting a broom finish.
Choosing the right concrete patio design should depend on the intended application. You want a feature that looks great, but practicality is also an important consideration. Parks' Waterproofing actively engages with customers and can provide specialist guidance.
Landscapes Designed for Relaxation
A landscape that is designed for relaxation provides an oasis away from the world. You may be spending more time at home than expected, but that doesn't mean you have to feel like a prisoner. Your landscape can become a welcoming and comfortable escape at a time of uncertainty. At Parks' Waterproofing, we are committed to bringing visions to life.
Call our offices today if you want to bring new life to your landscape with customized hardscape and landscape features. Our team has a wealth of experience in helping homeowners create comfortable and inviting outdoor spaces.
Posted on behalf of Parks' Waterproofing LLC
5287 Speedway Rd
North Wilkesboro, NC 28659
Phone: (336) 927-3504
Monday – Friday: 8:00 AM – 5:00 PM