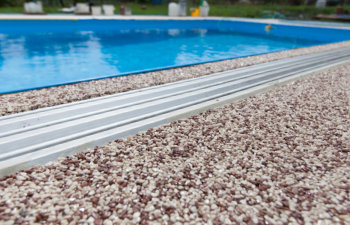 A concrete finish is more than just an afterthought. Depending on how you use an area of your home, you may have several factors to consider. Both indoor and outdoor concrete surfaces can serve distinct purposes. At Parks' Waterproofing, we are here to help you get the most from your living spaces.
Parks' Waterproofing offers two methods of concrete finishing. Slick finishing is smooth and improves the aesthetic of surfaces. Broomed concrete provides a slip-resistant surface that is ideal for areas that are likely to get wet. However, with the help of experts, you can use both to great effect when making improvements to your property.
Poolside Areas
The poolside is a great place to relax in the sun while the kids have fun. A slippery surface is not ideal around the pool, as it increases the risk of accidents and injuries. To keep your family and guests safe, Parks' Waterproofing recommends a broom finish.
You can also create a safer environment with greater slip resistance in other areas around the pool. Many homeowners come to Parks' Waterproofing for a broom finish in seating areas that present a risk of slips and falls. If you are concerned about anybody using your yard, reach out to our team today.
Patios & Walkways
Patios are typically designated as seating areas that are close to the main property. As such, you may choose to have a smoother finish to your concrete surfaces. For a slick appearance that adds curb appeal to your home, consult with Parks' Waterproofing.
Walkways benefit from better grip for family and visitors. Although these areas may not get wet as often, heavy footfall can increase the risk of accidents. You can choose a mixture of broom and slick finishes for contrast, depending on the theme and function of your walkways.
Wet Rooms vs. Basements
A wet room is more likely to benefit from a broom finish, whereas a slick finish is usually preferred for basement or storage spaces. The former provides slip resistance, whereas the latter is more suited to easy cleaning and a more level surface.
There are no hard-and-fast rules when it comes to concrete finishes. If you need help making the right choices, give Parks' Waterproofing a call today.
Posted on behalf of Parks' Waterproofing LLC
5287 Speedway Rd
North Wilkesboro, NC 28659
Phone: (336) 927-3504
Monday – Friday: 8:00 AM – 5:00 PM