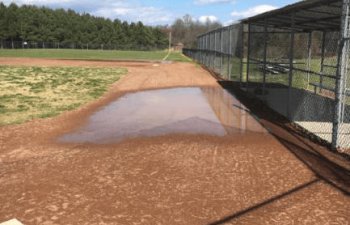 At Parks' Waterproofing, we speak to a lot of customers who are not concerned about the condition of their lawn. Gardening or having a pristine landscape is not for everyone, after all. However, standing water is one of the issues that usually come up in those conversations. The water is just sitting there, so it can't do any harm – right?
The problem is, that water is standing because there is no effective drainage available. Depending on the location of the pooled water, the least path of resistance could be your basement walls or foundations. Moisture intrusion can happen quickly. You may not see any other signs than standing water on your lawn.
Landscape Water Drainage
If water is not effectively draining away from your landscape, there is a problem beneath the surface. Compact soil, rocks and other issues can impede the path of water. Drainage may fail after irrigation or heavy rain. Regardless of the reason, it is important to keep water flowing away from walls and foundations.
The reality is that your home or business premises are at risk from ground water. Anything that is preventing that water from draining away is a risk to integral structures that are in the way. If you can see water on the surface, there is probably a lot more going on in the subterranean areas of the property.
Waterproofing Specialists
The only way to determine if standing water is a problem is hiring a waterproofing specialist. The water may drain away safely but, in the meantime, important structures such as basement walls and foundations are at risk.
Call Parks' Waterproofing today to learn more about the causes and solutions for standing water. Whether you are a residential or commercial property owner, we can help with all your water intrusion prevention needs.
Posted on behalf of Parks' Waterproofing LLC
5287 Speedway Rd
North Wilkesboro, NC 28659
Phone: (336) 927-3504
Monday – Friday: 8:00 AM – 5:00 PM