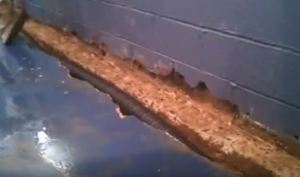 When you build or buy a home, one of the main issues to explore is the level of drainage on the property. Drainage does not only apply to wastewater pipes and guttering. How water drains through the landscape is also important.
However, getting the all-clear from an inspection does not mean you will never experience drainage issues. Soil is not static and wastewater systems can run into problems. If your foundations are not protected with adequate waterproofing, it is only a matter of time before moisture intrusion gets into foundations to some degree.
Blocked or Burst Pipes
Blocked or burst pipes – especially those that run underground – are a major cause of water getting into foundational structures and subterranean walls. Even if you detect the problem fairly quickly, it may already be too late to undo the damage. Water is fast moving and will always follow the path of least resistance.
Internal waterproofing systems are not effective for protecting basement walls and foundations. You need a system that can protect against large amounts of water that drain on a path toward these structures. The alternative is risking significant structural damage that could cost you thousands in repair costs.
Changes in Soil Condition
Ideally, the site upon which your property was built should have effective drainage through the soil. In some cases, changes in soil condition will affect how water drains away. If your foundations or basement walls are in the way of the new path, moisture intrusion is the inevitable result.
Parks' Waterproofing can install a system that eliminates these risks. If you want your home to benefit from a patented and proven waterproofing system, call our offices today. We provide a lifetime guarantee on our work, so you know you are getting the highest quality in workmanship.
Posted on behalf of Parks' Waterproofing LLC
5287 Speedway Rd
North Wilkesboro, NC 28659
Phone: (336) 927-3504
Monday – Friday: 8:00 AM – 5:00 PM