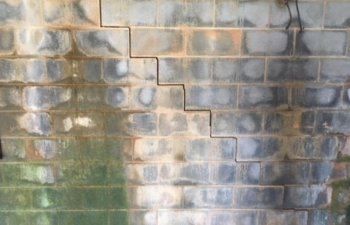 Water is one of the biggest problems for basements. Not only can it produce musty smells, mildew and mold, it can also cause costly foundation damage. For these reasons, it is important to manage the water around your house. By controlling how the water flows and where it exits your property, you can protect your home from significant damage. It is also important to recognize the early signs of water problems. One frequently overlooked symptom of water infiltration is efflorescence.
What is Efflorescence?
Efflorescence is a white powdery substance that clings to vertical surfaces in your basement. You will find it across concrete walls, blocks and bricks. You may also find it on concrete floors, especially where the floor meets the wall. It can look like salt or snow, and it is easily brushed off. Simply brushing it away doesn't solve the problem. Until the water issues are corrected, the efflorescence will return. 
Is Efflorescence Dangerous?
Efflorescence is created when water reacts with the chemical structure of the concrete. It forms mineral deposits that look like crystals or salt, and some people say it looks like snow. The minerals appear on the surface of your walls because the water pushes them to the surface and then they remain after the water evaporates. Efflorescence's powdery nature can be frightening, but it is not mold, and it is non-toxic.
What Does It Mean if I Have Efflorescence?
Efflorescence is a cause for concern because it usually indicates a water problem along your home's foundation. Since efflorescence is often one of the first signs of trouble, it is important to have an expert review the water conditions on your property. By determining the cause of the efflorescence, the water can be diverted away from your home. This helps prevent further damage to the structure.
If efflorescence is warning you that there is a water problem in your basement, taking immediate action can prevent costly problems. Mold and mildew can be health hazards and require special care with removal. Leaking or cracked foundations can be expensive to repair. Contact Parks' Waterproofing today and protect your basement.
Posted on behalf of Parks' Waterproofing LLC
5287 Speedway Rd
North Wilkesboro, NC 28659
Phone: (336) 927-3504
Monday – Friday: 8:00 AM – 5:00 PM