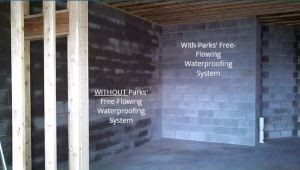 When you made the decision to build or buy a home with a basement, did you know the risks? As the basement is an essential part of the foundations of a property, it is at a greater risk of water infiltration. One of the consequences of water getting into a basement is the spread of mold and mildew. Knowing how to identify mold is an essential skill when it comes to home maintenance.
Identifying Mold
Mold is one of the most successful types of fungi when it comes to proliferation. We see it in the wild, in public buildings and in our landscapes and homes. The reason that mold is able to thrive so easily is because it relies on one of the most abundant resources on the planet – water. Add a temperature that is just right, and you may have a problem.

Mildew is a common type of mold that is typically black and spotted in appearance. However, as mildew spreads it becomes a network of larger colonies. You have probably already encountered this type of mold in wet rooms, kitchens and bathrooms. It is especially found in the grout between tiles and other surfaces where moisture is able to gather.
The problem is, it is difficult to distinguish between mold and dirt. You can confirm your suspicions by performing a bleach test, which involves applying a small amount of household bleach to the area. Mold will become bleached within a few minutes, whereas most types of dirt will likely retain its color.
Potential Cause of Mold in a Basement
Moisture infiltration is one of the most common causes of mold in a basement. Do not assume that because you have a waterproofing membrane, your basement is safe. Interior membranes are ineffective at preventing moisture from entering through cracks in walls or foundations. The cause of the problem could be water that is unable to drain away and has no other path than through your walls.
For a basement waterproofing solution that works, ask about the patented Parks' Free-Flowing Waterproofing System when you call our offices for a consultation today.
Posted on behalf of Parks' Waterproofing LLC
5287 Speedway Rd
North Wilkesboro, NC 28659
Phone: (336) 927-3504
Monday – Friday: 8:00 AM – 5:00 PM