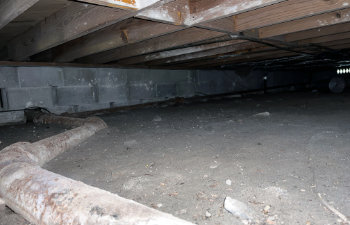 Your home's crawlspace is an often-overlooked part of the house, but it plays a significant role in maintaining the structural integrity and indoor air quality of your home. Crawlspace encapsulations and vapor barriers are crucial components of home maintenance, and they provide a range of benefits that protect your home from various issues, including moisture damage, mold growth, and poor air quality. Here are eight ways crawlspace encapsulations and vapor barriers can protect your home.
1. Moisture Control
Moisture is a common problem in crawlspaces, especially in humid climates or areas of heavy rainfall like North Carolina. Excess moisture can lead to many issues, including rot, mildew, and mold growth. Crawlspace encapsulations and vapor barriers help control moisture by creating a sealed environment that prevents water vapor from entering. This barrier protects the wooden structures and insulation in your crawlspace, preserving their integrity and preventing moisture-related damage.
2. Mold Prevention
Mold can be a serious concern in crawlspaces, and it's not only a health hazard but also a structural one. Mold spores can spread through the air, leading to indoor air quality issues, allergies, and respiratory problems. A vapor barrier in your crawlspace can prevent moisture buildup, creating an inhospitable environment for mold growth. Keeping humidity levels in check reduces the risk of mold infestations and their associated problems.
3. Improved Indoor Air Quality
The air in your crawlspace can directly impact the air quality in your living spaces. When a vapor barrier is installed, it helps reduce the potential for allergens, odors, and pollutants to enter your home. Maintaining a clean and dry crawlspace environment can enhance indoor air quality, creating a healthier living space for you and your family.
4. Energy Efficiency
Crawlspaces that lack proper insulation and vapor barriers can lead to energy inefficiency in your home. Without these protective measures, temperature fluctuations and humidity levels in your crawlspace can affect the comfort and energy efficiency of your home. Encapsulating the crawlspace with a vapor barrier can help regulate temperature and humidity, reducing the strain on your heating and cooling systems and ultimately leading to lower energy bills.
5. Structural Integrity
Moisture and mold can compromise the structural integrity of your home. Over time, wood and other structural materials in the crawlspace can weaken or rot due to prolonged exposure to excess moisture. A vapor barrier helps protect these materials, preserving the strength and stability of your home's foundation and supporting structures.
6. Pest Deterrence
Crawlspaces can be attractive habitats for pests like rodents and insects. An encapsulated crawlspace with a vapor barrier provides an additional layer of defense against pests. It can be challenging for pests to navigate or nest in a sealed, dry environment, reducing the risk of infestations that can harm your home.
7. Long-Term Savings
Investing in crawlspace encapsulations and vapor barriers is a proactive step that can save you money in the long run. By preventing moisture damage, mold growth, and structural problems, you avoid the costly repairs and renovations resulting from these issues. Additionally, improved energy efficiency can lead to lower utility bills over time.
8. Increased Home Value
A well-maintained crawlspace can enhance the overall value of your home. Prospective buyers often view a dry, clean crawlspace as a positive feature, and it can make your home more attractive on the real estate market.
Crawlspace encapsulations and vapor barriers offer numerous benefits that protect your home from various issues. Whether you're considering these options for a new construction or as an upgrade to an existing home, they are valuable investments in maintaining a healthy and durable living environment. To learn more about crawlspace encapsulations and vapor barriers for your home, contact our team at Park's Waterproofing in Winston, NC – we serve communities in Western North Carolina.
Posted on behalf of Parks' Waterproofing LLC
5287 Speedway Rd
North Wilkesboro, NC 28659
Phone: (336) 927-3504
Monday – Friday: 8:00 AM – 5:00 PM