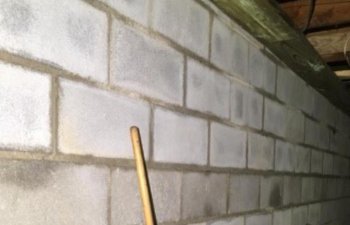 If you use your basement for storage or don't use it at all, it is still important to periodically inspect the space. The basement is an important structural feature in the home. Water intrusion or structural damage that is left undetected can become a serious issue. Potential repair costs will escalate if these problems are not addressed.
Water Intrusion
There is a misconception that an internal waterproofing membrane will prevent water intrusion. However, this type of system will not prevent water from seeping through basement walls. The root cause of the issue is external, so having an internal membrane is like shutting the barn door after the horse has bolted.
An effective external waterproofing system is a superior solution to preventing water intrusion in basement walls and foundations. The system essentially reroutes standing or pooling water away from the structures on your property. Water is not sentient and will simply follow the easiest path. Obstructions in soil or the slope of the land can lead water directly to your basement walls.
Structural Damage
The other issue to look out for is structural damage. This can occur due to water intrusion, poor construction, soil erosion or shifting and a host of other reasons that are specific to the site and property. Identifying the cause of structural issues in the basement is the first step.
The cost of repairs will depend on the extent of damage and the amount of work needed. Catching any structural issues early could save you a significant amount of money. It is also worth considering potential savings on your energy bill from improved insulation.
If you have identified water intrusion or damage in your basement, call Parks' Waterproofing today. We can provide waterproofing and repair services to save you the pain of major costs further down the road.
Posted on behalf of Parks' Waterproofing LLC
5287 Speedway Rd
North Wilkesboro, NC 28659
Phone: (336) 927-3504
Monday – Friday: 8:00 AM – 5:00 PM