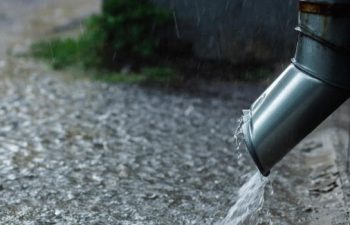 The fact that a solution fixes a problem is not proof positive that it was the right way to go. At Parks' Waterproofing, we can install a patented and proven waterproofing system that will protect your basement walls and foundations. However, if you call for a consultation, the solution to your issue could be as simple as repairing a downpipe.
There are countless examples where plumbing and draining problems are over-repaired. For instance, when a contractor employs a salesperson to conduct onsite consultations, you can almost guarantee that the customer will be offered costly repair or replacement options.
Solution Driven Waterproofing
Solution driven waterproofing should not mean looking for the most expensive or even fail-proof option. For most problems, an ethical waterproofing contractor would provide a list of options and recommend those that are most cost-effective and long-lasting.
Striking a balance takes experience and knowledge when it comes to waterproofing. If the most expensive solution is going to reduce callout or repair costs over the long-term, it is certainly worth considering. It's just important that the customer is provided with honest and realistic information so he or she can make the right choice.
Parks' Waterproofing Commitment
A consultation from Parks' Waterproofing is conducted by the owner of the company. All customers are treated with respect and integrity. The solutions that we recommend are appropriate and based on providing cost-effective repairs or replacements that work.
We do aim towards providing solutions that are permanent wherever possible. While we would certainly welcome repeat customers, the quality of workmanship that we offer is of more importance. Besides, we do receive additional business based on the recommendations our work earns from happy customers.
If you are having drainage issues and are worried about the impact on water intrusion, reach out to the experts from Parks' Waterproofing today.
Posted on behalf of Parks' Waterproofing LLC
5287 Speedway Rd
North Wilkesboro, NC 28659
Phone: (336) 927-3504
Monday – Friday: 8:00 AM – 5:00 PM