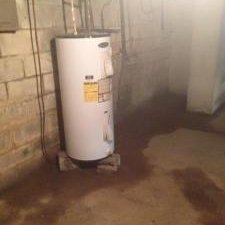 Poor drainage can cause a host of problems for your property. Often, these issues can become costly to repair or could devalue your home. Drainage issues may be difficult to identify at first, but you will likely begin to notice pools of standing water in your yard or garden.
Symptoms of poor drainage may be constant or only appear after rainfall. Discoloration of exterior walls and brickwork are another indicator that moisture is failing to drain away from your home. Similarly, persistent growth of green algae indicates that optimal wet conditions have been met for this growth to thrive.
As your basement faces the greatest exposure to environmental damage from soil pressure and the elements, you should be particularly attentive to any signs of damp. Moisture on the walls, pooling water and the growth of mold all indicate that you may have drainage problems. In the rest of your property, you should note the appearance of cracks in the walls, and difficulty closing windows and doors due to the expansion or warping of wood.
What Issues Does Damp Cause?
In minor cases, damp may cause damage to your possessions. These items could be costly to replace or have sentimental value. Your utility costs may increase as damp air is harder to heat and puts more pressure on your air conditioning unit to remove.
Mold and mildew could require specialist treatment to remove. If left unchecked, bad drainage can cause structural damage to the foundations of your home and land. Your property will at best be severely devalued by soil subsidence and shifting foundations, and at worse could collapse or face being condemned.
Think Ahead for Drainage
At Parks' Waterproofing, we recommend ensuring that a proper drainage system has been installed rather than waiting for problems to emerge. If you are buying, building or renovating a property, this is the ideal time to get an expert opinion on the existing drainage system and make any necessary adjustments.
That said, it is never too late to address drainage issues. Parks' Waterproofing can determine the optimal depth and positioning for drains, ensuring that runoff is properly directed to an appropriate area. If damage has occurred, we can also provide professional structural repairs to restore your home to its previous state.
Contact Parks' Waterproofing in the Western North Carolina area for a free estimate today.
Posted on behalf of Parks' Waterproofing LLC
5287 Speedway Rd
North Wilkesboro, NC 28659
Phone: (336) 927-3504
Monday – Friday: 8:00 AM – 5:00 PM