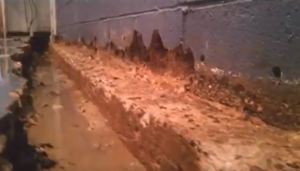 Drainage problems are a bane for home and business owners alike. Whether you are dealing with standing water, moisture intrusion or flooding, it is crucial that the problem be addressed immediately. The alternative is facing costs for damage to structures that are essential to the integrity of your property.
There are telltale signs of drainage issues that you can identify without the help of a professional. However, you may not see a problem until heavy rainfall reveals shortcomings with your drainage solutions. In this case, you could end up dealing with an emergency situation.
Drainage Issues
Standing water is one of the most obvious drainage issues you will encounter. Water that does not effectively drain away will eventually find the path of least resistance. When this journey leads to a foundation or basement walls, you have a problem. Similarly, poor guttering, drainage pipes and sewer lines can lead to a catastrophic flooding situation.
These drainage issues can damage your lawn, hardscape features, pathways, exterior walls, interior walls, roof space, basement and the foundation of your property. The extent of damage will depend on the volume of water and how effectively it drains away from vulnerable structures. Predicting the behavior of water is a gamble for the layperson, which is why you should consult with Parks' Waterproofing in Western North Carolina.
Guaranteed Drainage Solutions
Parks' Waterproofing offers several services that will address ineffective drainage. We can install a waterproofing system that corrects issues with standing water, while also protecting your basement walls and foundation. We also specialize in the repair and installation of guttering systems.
If your supporting structures have suffered damage due to water intrusion, Parks' Waterproofing can complete repairs. This includes restoring stability to foundations and foundational walls. If these structures continue to suffer damage, there is a risk to the integrity of your home or commercial premises. In extreme cases, a building may even collapse due to the strain on compromised supporting walls.
For an inspection of your property, call Parks' Waterproofing today. We are committed to offering drainage solutions that come with a lifetime guarantee.
Posted on behalf of Parks' Waterproofing LLC
5287 Speedway Rd
North Wilkesboro, NC 28659
Phone: (336) 927-3504
Monday – Friday: 8:00 AM – 5:00 PM