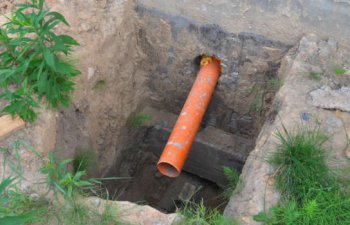 Water is vital for life on this planet, but when there is too much, it can be devastating to your property. Managing water around your home can protect your house, landscaping and paved surfaces from damage. When you notice standing water in your yard or leaking in your basement, it is time to consider a new drainage solution. For many homeowners, French drains are a cost-effective and viable drainage solution.
What Is a French Drain?
The French drain system was designed over 150 years ago as a way to divert water away from crops that were flooded by heavy rains. The system uses basic scientific principles to provide effective drainage for almost any type of property. French drains are created by digging trenches in areas with poor drainage and laying perforated pipes that are slightly sloped in the desired direction for water flow.
The pipes are covered with drainage rock and soil.
When it rains, the water soaks the soil and will flow in the easiest path. Seeping down through the drainage rock is the simplest path for the rain water, then into the empty pipe. Water will always flow in the path of least resistance – the French drain provides the ideal path for water to be directed away from landscaping, structures and paved areas.
Do You Need a French Drain System?
If you have soggy areas in your yard that are creating landscaping or erosion issues, a French drain may be the solution. These systems can manage water that is coming from the gutters on the home or divert it away from patios, driveways or other areas. However, if you are experiencing basement leaking or foundation damage, you may need more than a simple French drain to protect your home from damage. The Parks' Free-Flowing Waterproofing System may be a better option for sealing your home's basement and foundation.
When you have water problems in your yard or around your home in North Carolina, contact us at Parks' Waterproofing. We offer advanced options for drainage solutions, including French drain installation. Call us today to schedule an estimate on your new drainage or waterproofing system.
Posted on behalf of Parks' Waterproofing LLC
5287 Speedway Rd
North Wilkesboro, NC 28659
Phone: (336) 927-3504
Monday – Friday: 8:00 AM – 5:00 PM