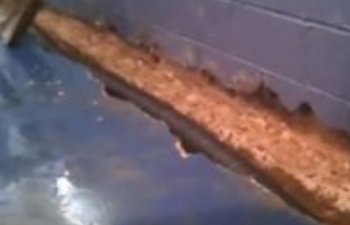 We plan to put an in-home theater in our basement. Can we do the waterproofing ourselves to save some money on this project? Truthfully, if you have the times, tools, talent and laborers, you can find a video on just about any DIY project online. Although YouTube has many videos on existing home waterproofing, it is not an easy DIY project.
Unfortunately, not all of these DIY videos are thorough enough to ensure perfect waterproofing to protect your costly investment of putting an in-home theater in the basement. Plus, other considerations need examination before you begin waterproofing, such as there might be a significant outside influence that is causing too much moisture in your basement, do you need a soil amendment, is a sump pump required and more.
Call the professionals at Parks Waterproofing to get a free, no-obligation assessment of your basement's waterproofing requirements.
Always Consider a Professional Waterproofing
The licensed, insured and experienced technicians at Parks Waterproofing can examine all the issues and recommend appropriate remedies before you make a costly error with DIY.
Their first assessment will find the root of the problem causing the water or moisture in your basement. The priority must be to eliminate drainage and unstable soil conditions surrounding your basement, which could point to something larger than just waterproofing will eliminate.
The problem might start with your gutters and downspouts. If they leak or don't point runoff away from your foundation (it is recommended that downspouts spill runoff hour feet away from the foundation) there could be problems. It would be best if you remedied that condition first. Likewise, improper grading around your home could funnel water toward your foundation, which could lead to a significant problem if not corrected before you renovate the basement.
Plus, the problem could be too much humidity inside your basement. Waterproofing will not correct that. You should install a good dehumidifier. We all know how humid North Carolina can get. Installing a whole-house dehumidifier might make it more comfortable throughout.
These are just a few items the Parks Waterproofing professionals can eliminate before they waterproof your basement so that you can remodel without worries.
Consider a Soil Amendment Assessment
Get the facts about a soil amendment from professionals. Parks Waterproofing has been doing soil assessments and amendments for more than a decade. Typically, a soil amendment is not necessary, but it is best to get an assessment and avoid a costly error.
Poor soil can lead to a foundation collapse in a worst-case scenario. However, it is easy to predict the soil's ability to drain water away from the foundation. That's what we do at Parks Waterproofing. The priority is to correct any drainage problem before we waterproof. Contact us today for more information or to schedule an assessment.
Posted on behalf of Parks' Waterproofing LLC
5287 Speedway Rd
North Wilkesboro, NC 28659
Phone: (336) 927-3504
Monday – Friday: 8:00 AM – 5:00 PM