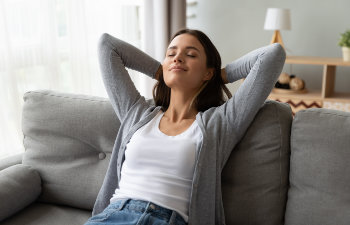 Excess moisture from humidity can cause extensive damage to your home and health. Mildew growth can be dangerous for individuals with asthma or allergies and lead to costly structural damage. A whole house dehumidifier can be an excellent investment to eliminate potential health problems and increase the overall value of your home. Here are three benefits you can receive for your home with AprilAire dehumidifiers installation.
Fresh Air Ventilation
AprilAire dehumidifiers installation can help improve the air quality of your home. Fresh air ventilation reduces contaminants that aggravate asthma and allergy symptoms. Larger filters than other whole house systems are able to capture more airborne particles that can affect your health. Your home can be filled with clean air with less maintenance to protect your overall health. Proper humidity levels can improve your sleep quality and lower stress levels to lower your risk for illness.
Lower Energy Bills
AprilAire dehumidifiers installation can help you lower your energy bills in your North Carolina home. When excess moisture and humidity are eliminated, temperatures throughout your home are more comfortable. There is also less need to run your air conditioner during the hot summer months. Heating your home during the winter can be done in less time with programmable settings on these systems.
Boost Resale Value of Your Home
Upgrading your North Carolina home with an AprilAire dehumidifiers installation can boost resale value when you decide to sell in the future. Many homeowners can see up to a 71% average return on investment with this upgrade. Poor humidity levels can lead to structural damage like peeling paint, cracked wood and damage to furniture and sensitive electronic equipment. By making this investment, you can save money on home maintenance and repair costs.
Professional AprilAire Dehumidifiers Installation in North Carolina
The health and safety of your home and family are your top priorities. If you struggle with excess moisture and humidity, investing in a whole house dehumidifier can be an excellent solution. Parks' Waterproofing provides professional AprilAire dehumidifiers installation for homeowners throughout Western North Carolina. Certified installers can come to your home at your convenience to provide you with healthy air for you and your family. Call to schedule an appointment today.
Posted on behalf of Parks' Waterproofing LLC
5287 Speedway Rd
North Wilkesboro, NC 28659
Phone: (336) 927-3504
Monday – Friday: 8:00 AM – 5:00 PM