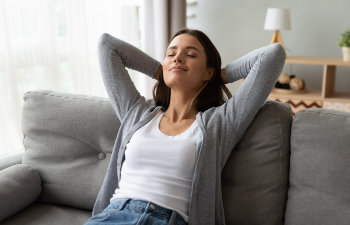 Maintaining the right humidity level in your home is essential for comfort, health, and property preservation. High humidity levels can lead to problems such as mold growth, structural damage, and discomfort, while low humidity can cause dry skin, respiratory issues, and even damage to wooden furniture. To address these concerns, many homeowners are turning to custom dehumidification systems. With winter approaching with higher humidity levels, here are some benefits of adding a customized dehumidification system to your North Carolina home.
Improved Comfort
Maintaining the ideal humidity level in your home, typically between 30% and 50%, creates a more comfortable living environment. Excess humidity can make the air feel sticky and uncomfortable, especially during hot summer months, while low humidity can lead to dry skin and irritation.
Better Indoor Air Quality
High humidity levels can encourage the growth of mold, mildew, and dust mites, which can trigger allergies and respiratory issues. A custom dehumidification system helps reduce these allergens, leading to better indoor air quality and a healthier living space.
Protection Against Mold and Mildew
Mold and mildew thrive in humid conditions, particularly in areas like basements and bathrooms. By maintaining lower humidity levels, a dehumidification system can help prevent mold growth and protect your home from structural damage and health hazards associated with mold exposure.
Preservation of Property
Excess moisture in the air can damage valuable possessions and the structural integrity of your home. Wooden furniture, musical instruments, and electronics are vulnerable to humidity-related damage. A dehumidification system helps preserve your property and investments.
Reduced Condensation
High humidity levels can lead to condensation on windows, walls, and ceilings. This moisture can cause water damage, including peeling paint, rotting wood, and water stains. A dehumidification system helps reduce condensation and protect your home's surfaces.
Comfortable Sleep
Maintaining the proper humidity level can improve sleep quality. High humidity can make sleeping harder, while dry air can lead to snoring, dry throat, and congestion. Balanced humidity ensures a restful night's sleep.
Reduced Odors
Humidity can contribute to musty odors in your home, particularly in areas prone to moisture buildup. A dehumidification system helps eliminate these unpleasant odors, providing a fresher indoor environment.
Peace of Mind
Knowing that your home is protected against the adverse effects of high humidity can provide peace of mind. You won't have to worry about mold growth, damage to your property, or health issues related to poor indoor air quality.
When considering a custom dehumidification system for your home, it is essential to work with a qualified professional who can assess your specific needs and recommend the right system for your space. A custom solution ensures that the dehumidification system addresses your specific humidity concerns and removes the cause of your humidity problem. Park's Waterproofing is your source for customized humidity solutions in the Winston-Salem, NC, area. Contact us to schedule a dehumidification consultation to protect your home and family.
Posted on behalf of Parks' Waterproofing LLC
5287 Speedway Rd
North Wilkesboro, NC 28659
Phone: (336) 927-3504
Monday – Friday: 8:00 AM – 5:00 PM