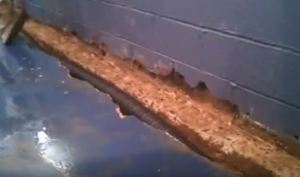 While rain is fairly predictable in North Carolina, with July typically marking the wettest month of the year, there is also the possibility of a number of rainy days during the winter months. For homes that do not have sufficient waterproofing for foundations and basement walls, the risk of water infiltration is obviously greater during these periods.
Heavy rainfall is more likely to create obvious signs of water seeping through walls and foundations. However, it is often the slower intrusion during dryer seasons that causes the most damage. If homeowners are not easily able to detect the signs of moisture infiltration, structural issues can develop over time undetected.
Internal Waterproofing Membranes
Let's just cut to the chase – internal waterproofing membranes typically are not fit-for-purpose and may not even meet required standards and codes. They are not designed to project masonry work or foundations but, rather, prevent water from infiltrating any further.
Considering that basement walls and foundations are integral structures in a building, it soon becomes clear why an internal waterproofing membrane provides little protection. When water is able to infiltrate walls, you already have a problem. A more complex system that diverts any build-up is needed to avert disaster.
Exterior Waterproofing System that Works
To protect walls and foundations, you need an exterior waterproofing system that is proven to work. The Parks' Patented Waterproofing System is designed to ensure that water doesn't reach the structures that support your property. This complex waterproofing system is endorsed by structural engineers and comes with a lifetime guarantee.
If you require waterproofing that redirects excessive water in your landscape away from foundations and basement walls, the Parks' Waterproofing System is the answer. We can inspect your property and provide recommendations that are customized to the unique needs of your property.
Posted on behalf of Parks' Waterproofing LLC
5287 Speedway Rd
North Wilkesboro, NC 28659
Phone: (336) 927-3504
Monday – Friday: 8:00 AM – 5:00 PM