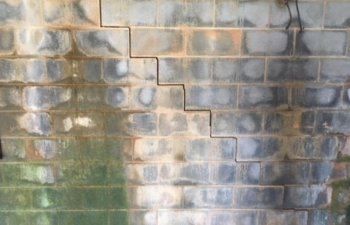 A wet basement is not something you should ignore or repair later, someday. It is a significant health hazard and a danger to the structure. If you postpone repairing and waterproofing a wet or leaky basement, you could put yourself and others at risk of serious health-related issues.
Ways A Wet Basement Can be Dangerous
Bacteria. Leaks and condensation issues in a basement create a moist environment – the ideal breeding ground for bacteria. Damp organic matter buildup on floors and walls can harbor growing bacteria colonies.
The more moisture there is in the space, the more the bacteria flourish, increasing the chances of household members becoming sick. The germs can even travel through your home's HVAC ducts and contaminate all the other rooms.
Flooding. In extreme cases, your basement can fill up with floodwater, some of which could come from a nearby sewer. The dirty water can also bring disease-causing bacteria into your home.
Unfortunately, basements are prone to flooding because they lie below ground level. That is why waterproofing your basement is a brilliant safety decision.
Pests. Damp basements are breeding grounds for rats, mice, insects and other pests. These irritating creatures are a health risk because they carry and transmit disease.
They contaminate everything – even the air – with droppings that sometimes contain viruses, bacteria and fungi. The fecal matter mixes with dust and makes its way up through your air vents to the rest of the house, where household members can inhale it. Plus, the rodents can damage your property (home and belongings).
Dust mites. Dust mites thrive in highly humid environments (above 50%). They are a health hazard for people with asthma and those allergic to dust mites.
Mold. Mold also flourishes in extreme humidity. While the mold infestation may begin in the basement, it will quickly spread because mold colonies release spores that get pulled into your home through the HVAC system.
It causes allergies, respiratory problems, rashes, headaches, prolonged flu-like symptoms and memory loss. In addition, it can destroy wood, metal, concrete, plastic and many other materials.
Guaranteed Waterproofing Solutions
Do not put yourself and other household members at risk of health problems by allowing your basement to remain damp. You might think that everything is ok since the water that leaked into your basement after heavy rainfall has evaporated. However, your basement is probably still a humid health hazard.
Waterproofing is the best choice to rid moisture, protect everyone's health and save money in the long run. The patented Parks' Free-Flowing Waterproofing System prevents water from infiltrating your home, stamping out all the problems that accompany excess moisture.
Furthermore, we thoroughly investigate your home's perimeter to ensure the drainage is 100% effective, so you will never have to worry about water finding its way into your basement again. Contact Parks' Waterproofing today to schedule an inspection. Our drainage solutions and waterproofing system come with a lifetime guarantee!
Posted on behalf of Parks' Waterproofing LLC
5287 Speedway Rd
North Wilkesboro, NC 28659
Phone: (336) 927-3504
Monday – Friday: 8:00 AM – 5:00 PM