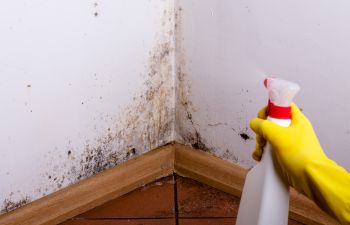 Water damage can be a stressful scenario for many homeowners. Heavy rain can cause soil to shift and allow water to seep through into your basement or crawlspace. This can lead to expensive repairs. Waterproofing your foundation can help you lower your risk and keep you safe. Here are three surefire signs to look for to tell if your foundation needs waterproofing.
Basement Mold
If you notice puddles of water or condensation on the windows in your basement, your foundation is revealing the immediate need for waterproofing. This moisture can lead to all kinds of structural and non-structural damage. Damp conditions can lead to the development of musty odors and mold. If not addressed immediately, mold and mildew can put your health at risk and may lead to irreparable damage.
Foundation Cracks
Cracks are a surefire sign your foundation is failing to work properly. Small fissures can be common within the first two years of construction. Cracks that run vertically can also be common with drywall. Larger horizontal gaps and cracks are a sign you may need waterproofing to protect your home. Insect infestations and water can weaken these cracks further, leading to expensive repairs.
Warping Foundation Walls
Expensive damage can occur to foundation walls from wet soil due to poor drainage, plumbing leaks or faulty gutters. Hydrostatic pressure can lead to curving or warping in foundation walls. You may also notice dry rot on doors and other wooden structures. Keep the moisture at bay from causing more damage with waterproofing services from an experienced professional.
Wet soil can also cause settling with the foundation, creating structural instability and potential plumbing leaks. You may notice uneven flooring and gaps around windows and doors. A foundation repair specialist can inspect your home to help you determine what repairs need to be made before extensive damage occurs.
Reliable North Carolina Waterproofing Services
Foundation problems can be a major cause of concern with the investment in your home. Parks Waterproofing offers custom waterproofing solutions with a lifetime guarantee. Patented technology in the Parks' Free-Flowing Waterproofing System can help protect your foundation from water damage all year long. Call for a free quote today.
Posted on behalf of Parks' Waterproofing LLC
5287 Speedway Rd
North Wilkesboro, NC 28659
Phone: (336) 927-3504
Monday – Friday: 8:00 AM – 5:00 PM